Retouch portrait photo online
Select a picture on your computer or phone and then click OK. Other settings are installed by default.
Example of a woman's face close-up photo before and after retouching on this site: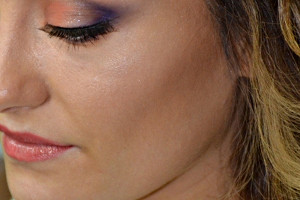 If you need to retouch not portrait photo, for example, photo in full growth, from afar, or where there are no people, it is better to try set "Retouching level" to 2, to select "Low smoothing" and choose for "Add sharpness" value from 0 to 5. This setting are needed because the default settings are set exactly to retouch a portrait photo. If you do not specify the above settings for not portrait photo, it may be blurred. By using this online service, you can automatically retouch photos up to 40 megapixels. After retouching the size of the output image is always obtained not more than two megapixels. If you need big retouched picture without reducing it, write on e-mail - it will be done free of charge during the day.
The original image is not changed. You will get other processed image.